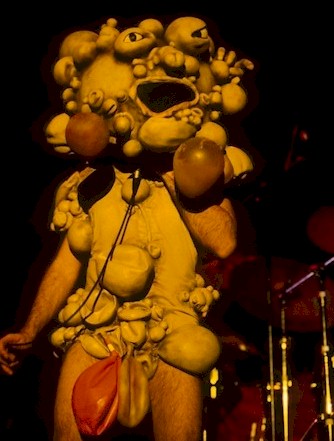 CalProg is pleased to announce (finally!) that we will be hosting the world renowned Canadian band "The Musical Box" performing Genesis' landmark progressive rock concept album "The Lamb Lies Down on Broadway" at the La Mirada Theater for the Performing Arts on Tuesday October 18, 2011. If you have ever been a Genesis fan but you have never heard of The Musical Box, I invite you to go to our web site, look at the photos and watch the videos. This is not a Genesis "tribute" band as much as it is a theatrical re-creation of the historic "Lamb" tour from the 70's. It was Peter Gabriel's swan song with the band and it was full of costume changes and special visual effects as well as some of the most captivating music ever written. This is the only production licensed by Peter Gabriel and Genesis, and they use the original 3 screen slide show from the tour. Even if you saw the original tour (as I did, at the Shrine Auditorium), this is a chance to see it WITHOUT all the technical snafu's that plagued that tour. If you never saw Genesis in their prime, this is the closest you will ever get. It's like stepping into a musical time machine.
This is among the first shows of what is scheduled to be an international tour of epic proportions. Don't miss this opportunity to see this in a classic theater setting, as it was MEANT to be seen. Speaking of which, this will be our first production at the La Mirada Theater and I think you'll find this venue as warm and personable as we have, from the couches around the fire place in the lobby, to the state of the art JBL built-in sound system. It is wide, but not deep, with a large stage and a clear unobstructed view from EVERY seat. While this is an all ages venue (of course!) they will be serving beer and wine to those that are interested. And there's plenty of free parking.
For those of you traveling from out of town for this show, the theater recommends the following for lodging:
Holiday Inn, 14299 Firestone Blvd. , La Mirada , CA 90638-5519 , 714/739-8500
On behalf of the entire CalProg staff, we look forward to seeing you at this monumental production!
Sincerely,
Jim "PapaJ" Harrel