I'll just say this... paying out extra money for the patron was paid over many times over this weekend! Friday night was killer, eating the great meal with friends... lots of beer...meeting Kurt Vanderhoof...drinking lots of beer...Hanging out with the Sylvan guys (who truly are the best!) drinking lots of beer...watching Gabble Ratchet...and yes drinking lots of beer. Don't worry I paid for it when i went up to my room later that night. uurrgghh

The show itself was fantastic. Getting lots of goodies (I promised myself I would not spend over $100 there..oops..yea right!) and seeing more and more old friends and meeting new ones.

Presto Ballet was good despite some issues..I thought "One tragedy At a Time" was excellent!

Of the 5 times i have seen IZZ..for me this was easily their best performance ever! They were so tight it was unbelievable! Their cover of "He Knows You Know" was great and Laura Meade singing "Light in your eyes" was mesmerizing. Another special CalProg moment was getting to k now Greg, their drummer. On Friday night we got to talking and it was very cool to get to know someone who you've watched on stage for so many years, in a whole different light. We continued to talk more on Saturday and will look forward to their return to the West Coast another time.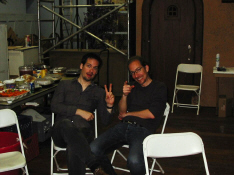 What can i say about Sylvan..a fantastic bunch of guys. When I was hanging with them on Friday I was telling them how much the song "These colors changed" from Posthumous Silence meant to me and hoped they'd play it. Sebastian and Volkker were extra cool to me and really nice and down to earth. I was in seventh heaven when they played the opening notes to These Colors Changed and Sebastian nodded to me, as if to say "Here you go Chris" and then seeing Marco look at me and smile when he sang the first chorus, showed me one thing, they were actually listening and caring when I was telling them the night before the special meaning the song had for me, and that they understood and remembered. wow..

Echolyn...since day one I have hoped they'd play in L.A. again and my dream came true! I guess their plane was late so they missed the Friday festivities, but as I was leaving the hotel on Saturday morn they were all outside the hotel waiting for their van. I was able to thank them and to talk with them for a bit, and like all the other bands they were very cool and very down to earth. Their set list did not disappoint, playing so many favorites and great songs from their "The end is Beautiful" album (one of my all time favorites) I was hoping deep down they'd play "Never the Same", but didn't think it would appear on the set list, but wow..they did play it and it was awesome! Ray is hilarious on stage..I wonder how he'd be after a little "Georgia Pine". Well the night ended and I got my sorry butt home about 1:00am (and then the baby woke up at 3:00 am) so i am on 2 hours sleep as I write this, but no matter the adrenaline is still pumping from a fantastic weekend! EVERY band was great. EVERY band was so approachable and down to earth, EVERY minute at Calprog this year was worth every dime spent..ten times over!

It was my first year as a Patron and I will continue as the years continue. Thank you PapaJ for a weekend I'll never forget!

Chris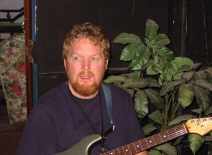 My god, Echolyn was fantastic. The full day was great and I want to thank everyone who volunteered to put on such a great and professional show.

Thanks again. Still buzzing from the night.

phideaux xavier
Seconded! Another fabulous festival, as usual. I had a terrific time not only enjoying the music, but reconnecting with all my prog homeys.

We represented!

PapaJim was right: the all-volunteer staff deserved their rousing standing ovation.

Oh, and nice bass playing Jim!

Mike
I'm
1. PRESTO BALLET- First band to hit the stage at 11:00 a.m. They announced that their keyboard player had quit the band just before the concert, so they had to play to a backing track of keyboards for each song. Their sound is something like Styx/Rush. The vocalist was quite amazing, with a range that you wouldn't believe. They played just under an hour, I believe, and didn't contribute a CalProg traditional cover tune of their choice. I agree with Jonathan that they could have played any prog song that included bass, guitar and drums; ie, Working Man by Rush. I was very impressed, though, with how well they played along with the keys tracks. It must have been very difficult. They're based in Seattle and are now looking for a full time keyboard player......any takers?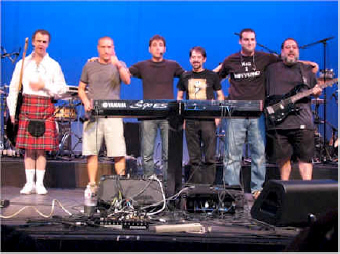 IZZ - An amazing collection of musicians who played a variety of musical styles in the prog tradition. They were so comfortable in their realm, and made it look all too easy (when you knew darn well that it wasn't). It was a real pleasure to watch this band, as well as listen to them. I'd pay $50 just to go see IZZ, even if no one else was on the bill. In the photos below, check out the bass player's t-shirt, a tribute to Catherine Tate "Am I Boverred?" Their cover tribute to ELP (Trilogy) was jaw-dropping. The keyboardist extraordinaire reminded us all of a cross between Neal Morse and Nick D'Virgilio (Spock's Beard drummer/vocalist). Then they topped it off with a very convincing version of Marillion's (He Knows You Know), with special guest Papa Jim Harrel (Mr. CalProg himself) on bass guitar. They left me wanting more.....
ECHOLYN - This Pennsylvanian band was the band I was least familiar with, but they quickly moved right up my list of must-haves after last night's performance. Other than their poor choice of Radiohead's (I don't know what it was) as their cover song, the set was flawless. Once again, as with IZZ, Echolyn were so comfortable onstage, keeping the crowd on the edge of their seats with amazement that you just wanted more and more. The lead singer looked a bit like Drew Carey, which took a bit of getting used to, but his vocal range was fantastic, and he was so alive and energetic onstage. Infectious is the word I would use to describe an Echolyn concert. They remind me a lot of Frogg Cafe. but Frogg Cafe have more of a Kansas/Zappa jazz fusion sound whereas Echolyn can get a bit metal. Both are great bands..
What an incredible show! IZZ and Sylvan were OFF THE CHARTS! Presto struggled without a keyboard player and backup singer and you could see they just weren't as fired up as the other bands, but they were in a tough position and I give Kurt & boys all the credit in the world for showing up and playing through it. I'd not known much of Echolyn and they too rocked, but again, IZZ and Sylvan were UNREAL. It's my 3rd CalProg and definitely won't be my last. IZZ should be a staple at this event. Bring them back. They just get better and better every time I see them and they clearly LOVE playing your show.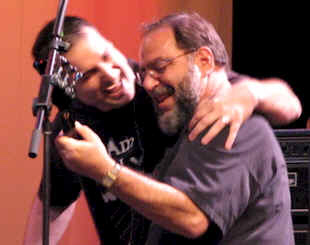 Finally, but certainly not least. Nice bass playing on He Knows You Know. That was awesome and John did Fish as well as Fish does himself (less the ever present scarf). Again, well done and look forward to next year.

For me it was:
IZZ
Echolyn
Presto Ballet
Sylvan

Like Nov I found Sylvan's music to be "sammy" in both structure and tempo and I was ready for it to be done by about the 4th song. The music is dominated by the keyboards and the bass player the guitarist was so far down in the mix (I think by design) I really wasn't aware of a couple of times he was playing solos. (I know I wasn't alone either as a few people around me were having trouble staying awake.) No offense to the Band who are great people and the fans who really like this style. I just have never gotten my arms around Neo Prog.

Presto Ballet did an admirable job sans keyboards but I would reserve judgment on them until I hear them with a keyboard player because it is so important to their style of Kansas/Rush style music. What was funny was after the show I was speaking to guitarist/composer Kurt Vanderhoof and his thoughts on the comparison from Metal crowds to this crowd:
"there's no mosh pit and they sit and listen! I should have done this years ago!"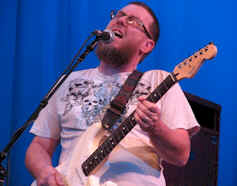 If IZZ was 1A then Echolyn was 1B. Just a complete opposite effect from Sylvan as the tempo changes were frequent and perfectly timed. Their sometimes quirky chops are interesting and placed selectively through the music as well. They too could have strong moments of vocal music and I think Ray Weston was the best vocalist there. The only thing negative I can say about them is Ray yelling Go Phillies several times to a decidedly pro Dodger crowd.



IZZ what can I say. They just blew us away yesterday with their energy, their great music and their friendliness. Paul Bremner coming out in formal Scottish attire wearing a Kilt was fun. They jumped right into Late Night Salvation and didn't stop. It was a treat to get to hear a new song that added some different styles (jazz) into the mix. I hear this is going to be on album to come out next year. The band members I spoke to about it are very excited about the material. Laura Meade and Anamarie Bryn were perfect as always on their vocal parts and harmonies (Deafing Silence for sure). Trilogy was simply breathtaking. Tom Saying he learned to play this in high school! I liked the bit of Tarkus thrown into the instrumental section as well. Greg and Brian did a great job on the drums.

Thanks again Jim and staff for a another memorable day. My better half Stacy talked the manager into letting us hang out the lobby afterwards and buy drinks from the club so that tradition was saved. Was great to hang out with Dan (Boceephus) again. 3 Years is too long Dan. Also so great to talk with and hang out with Greg, John, Brian and Brems from IZZ some of my favorite people in the world. Great meeting some new people and seeing older friends and new band members.

First of all - great job putting together such an amazing event.
I let my emotions settle down for a few days to make sure my review is not just all hype because that's what I felt
like
while I was driving home after a full day of great prog music.
Presto Ballet
: the guys did a great job considering the situation with their keyboard player. I was amazed at how well they were able to play along the sequencer. However, the lack of the live keyboards affected their overall
performance
. I was a bit disappointed they did
not
prepare a classic prog cover but I guess they had an excuse. Not a big fan of this band, I nevertheless enjoyed the show.
IZZ
: as I told you during the intermission, they are absolutely
incredible
. Their set felt somewhat short to me, although I realize it was almost two hours long! I just wanted more!
Both classic prog
covers were killer.
"
Trilogy
" i
s
my favorite ELP album and
one of
my top 10 favorite prog albums, so naturally I was extremely happy with their classic prog cover selection
.
And they played it exceptionally well.
I had a chance to chat with Tom about this song after the concert – he's truly an amazing pianist, a very gifted musician. And let's not forget that on the original recording Keith Emerson did not have to sing, but Tom
did
both singing and playing
!
!
Amazing.
And of course you did an awesome job helping the band on Marillion's cover.
Also,
I loved John's vocals, very emotional.
The band are so down to earth, great people.
Sylvan: overall the set seemed somewhat long for the type of music they played. Also, the lead guitar sometimes got buried in the mix. But Marco is a very cool guy and he maintained a great stage presence, as did the rest of the band.
Echolyn: what can I say... I was simply blown away. Seriously. Before, I only got to hear some of their CDs plus some songs that you played on the Matinee. I liked them and I was expecting a good show - but I couldn't even imagine how great and how tight they are live. With all their deliciously complex arrangements - loved every minute of it! Great, great band.
Once again - a truly amazing event. Everyone was so friendly and helpful, all the staff and all musicians. I had three of the four bands sign their CDs for me - all guys are so down to earth and they were so great to talk to.
3. SYLVAN - What can I say. I enjoyed the entire set (except for maybe their unbelievably weird choice of David Bowie's (Life On Mars) as the choice for cover song). The band members are top-notch. The bassist's guitar strap gave way during one of the songs, and he made an unbelievable 'save' grabbing his guitar before it hit the floor. He got a round of applause from the crowd for that. Some people have a hard time getting into the band because of the vocalist, and I'll admit that he takes a bit of getting used to, but what can I say, I thought they were great. Very talented band.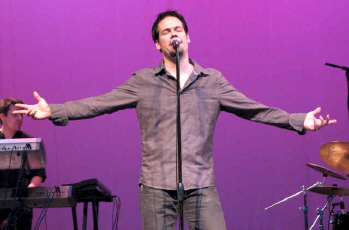 What was geared up to be the best....turned out to be ....the most amazing lineup yet. Every band was on fire folks!! I was up all night because the energy wouldn't leave, Echolyn's performance was seriously heavy! Although they didn't do a cover, they did some material off of As The World which to me was and is a prog classic, so, I guess that suffices. (Not sure if 3 or 4 bars of Whole Lotta Love count as a prog cover) Loved the on stage energy of Ray, Brett's guitar playing - Chris's keyboards... certainly a much different show than what I saw at NF in 2002, so much more. What I thought was special for me was the different arrangements for some of the material. It was much more of an intimate show at times, and other times it was much heavier than I ever expected Echolyn to be. I have a much deeper appreciation for how they came across this time without the 'orchestra'. They played material from Mei, CPF, As The World, The End is Beautiful, but really focused on CPF. Ray and Brett talked about the releases coming up, how Brett really loves hearing CPF now since he's been mixing a new release of it :) - These guys have some serious humor. I was exhausted after this set... They finished the night with an incredible performance, certainly made me speechless. Hope it's not another 14 years or so to see them back in California, if you weren't there, don't miss this band again. There's a reason that more people request this band than any other band to PJ. Echolyn delivered!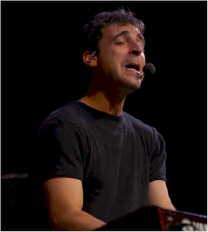 But Izz?????????
? Trilogy? I'm shocked that Tom doesn't get more recognition in any type of music critic press / media. Tom's playing was mind blowing. He pulled off some Emerson parts that Keith would be proud of. Tom was probably the person I would say deserves a heck of alot more credit than he has received. His musicianship and songwriting is right on top with many other bands that get too much hype The band played The Wait of it all too... one of my favorites - Anmarie's voice was a heavenly experience. Together with Laura, 2 very gifted & beautiful vocalists in a progworld dominated by ugly white guys. AND the band had a stellar performance without any glitches. Brems was the best I've seen him play yet. His tone, his solos, his kilt (that's another story), John's playing has just progressed so much in just a few short years and by all means, his musicianship never suffered to begin with. It really shows when a band is ready for CalProg, One of the elements of Izz that to me stands out still is having two drummers, Greg and Brian work together to create a fullness with analog and electronic drums that makes Izz sound so rich. It adds so much - another element of Izz that creates that unique sound.
PJ doing Marillion will NEVER be forgotten!!! I had no idea...and how fun was that? You gotta love the intimacy of the CalProg Experience, it really is just the coolest most down to earth festival anywhere!
Izz was prepared to blow doors and the practicing they did prior for this show was felt by everyone. Best of all though..... there really isn't a nicer group of people in any band than these guys (and gals). I do feel it's part of what makes this band what they are. I have to say the performance on Saturday night was one of the best shows CalProg has had the honor to host. Thanks to PJ for bringing these guys back so many times. It never gets dull, it just keeps getting better and better.
Sylvan's set was highlighted by Posthumous Silence, a masterpiece of material. Marco is one of the finest vocalists of the newer 'prog' bands today. He commands a lot of attention on stage - I have only one cd of this band but what they did at the show prompted me to explore much more of their material. Very diverse and developed songwriting. And anyone that wasn't sure what to make of the prog classic....how could you go wrong with David Bowie! Live on Mars, nice departure from the other classics. Nice choice guys!
I'm going to be thinking about this show for a long long time... PJ really outdid himself with this one and my hats off to the CalProg staff, couldn't have asked for a better day or for that fact and better time of year. What a beautiful day it was!!!!
robert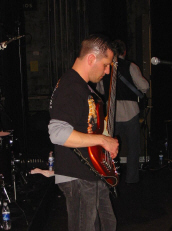 Well it's the morning after Calprog and I had a great time there meeting my friends Dave and Kitty and also Stephanie from "Progressive World" and, of course, seeing 4 great bands.

The concert kicked off at 11am with "Presto Ballet" and it was weird hearing the lead singer say "Good Morning" after the first song

Here is the order in which I enjoyed the bands (most to least)

1) Echolyn - truly owned the stage and had the best sound and songs. Shame about the Radiohead cover though ;o)
I want to hear more of this band.

2) IZZ - very quirky band and not quite my cup of tea but won me over with their musicianship and personalities plus a truly jaw-dropping cover of "Trilogy" by ELP. Also a very energetic version of "He Knows You Know" which went down a storm. Shame about the guitarist wearing a kilt (joking!)

3) Presto Ballet - very Rush-like and came across well. I was impressed with how they overcame their lack of a keyboard player. They really should have tried to play the traditional prog cover though. An early Rush track would have gone down a treat. They could have done that as a 3-piece without bothering with keys.

4) Sylvan - Really didn't do it for me. Great guys and they got a great reception but I found the lead singers voice a bit weak and their songs extremely samey after a while. All of them seemed to be anthematic four-chord walls of sound at the same tempo. Strange choice of a prog cover as well - "Life On Mars". I mean, I love that track but it doesn't seem to be that well known in the States, at least not amongst the guys that I was with.

All in all though a fabulous day and I just managed to miss a horrendous pile up on the I-5 on the way back to Agoura Hills which brought me back down to earth rather.

Cheers

Nov
What a great day. it was my son's 18th birthday and he is a prog fanatic. Four great bands; four exceptional bass players (five if you count your cameo). We were actually sat right in front of you in P111 and 112.I have three suggestions for next year.1)Circa..Billy Sherwood and Jimmy Haun are old friends;2) Arjen Anthony Luccasson, He has used enough US based prog stars to produce something really special;3)The Tangent.........Pipe dream would be Pain of Salvation. Again thank you and all at CalProg for keeping this great genre alive.

Wayne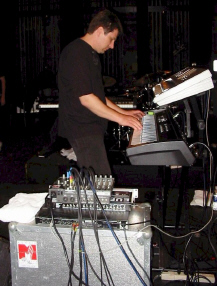 I had a fantastic time at CalProg, saw a lot of good friends again, lots of music talk and having Sadler by was a hoot. My order of interest was:

Sylvan - absolutely hypnotic, I understand comments about how Marco sings because he has a style that can get samey after a while, but it's just so powerful, I usually get anxious after watching a show after 30 minutes, and this didn't happen for me.

Presto Ballet - These guys literally had about a week where they decided they had to sequence the keyboards and then rehearse to them (this was because the keyboardist they had flat couldn't do it (he wasn't on the album)), and this was their first performance EVER, so I was blown away. I understand why they didn't do a cover, it was just lack of time.

Echolyn - Was really looking forward to this, but after 40 minutes found myself bored and left, don't know why, I remember really liking them. They are amazingly talented, maybe it was the set list.

IZZ - They are a great band, but at this point I've seen them a bunch of times and there hasn't been a new album in like 5 years, so there really wasn't anything new. If they'd had a new album, I would have been more interested, but as it was I just went outside and talked to people

Everyone working the event was absolutely great, and the people were awesome, my crew had a great time.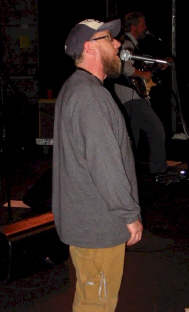 I absolutely agree it was an fantastic day! I also think Sylvan was truly awesome. Their songs were great and what a performance! They have a lot of emotion in their music and they can really deliver it live. They were my favorites of the evening. Echolyn was great as they provided a diverse set and really seemed to enjoy themselves. It's nice seeing that enjoyment radiating from the stage. Izz was great as usual and they really seem to connect with folks.

Thanks Papa J, you and your crew pulled off the fabulous event even with the small glitches. Everything ended up close to schedule and it was the best lineup ever!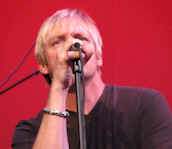 The singer (Presto Ballet) told me that this gig was his first performance in front of a crowd in eight years. Holy Shizznits, batman. The dude rocked. (I liked Stacy's Rocky Horror observation!) Great band, but the keyboards woulda made a huge difference. I'm surprised they didn't cover RUSH, it's coulda been done without keys. Oh well. Next time will be better.

I know a lot of people really loved Sylvan. Good for them. They just didn't click with me. I think there sound is too mid-range and wears out the ears. Not a lot of audio dynamics. The last track that had the funk groove was damn good. I'd like to hear more space, air, in the music to bring out the highs and lows. Don't get me wrong, they are talented and showed off some great chops.

IZZ? Damn. I held my breath so much during their set, I almost blacked out. A virtual roller coaster ride of challenging riffage, soaring solos, dynamic vocal melodies and powerful rhythms. I was drunk with emotion. And I'd only had one Pete's Wicked Ale during the break! IZZ just keeps getting better. The Deafening Silence was stellar, so much more meaningful than the studio effort. It comes alive before your eyes. Late Night Salvation is an incredible tune as well. My personal fav. Hanging out with Greg, John and Brems was awesome, too. Missed spending time with Brian & Tom. I did get to say hi to Anmarie, but missed Laura. My loss. Fred is a big fan now. We listened to My River Flows on the way home.

We gotta make sure we have elevator escape tools ready for next year... nine volt batteries too! Maybe we can post a guard to keep the hotel staff from giving Brems room away again. Poor dude, what a shocker!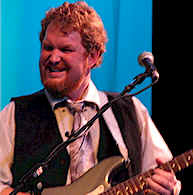 Echolyn is a band I've wanted to see live for a long time, and they brought the good stuff. Much of Cowboy Poems Free was featured. As the World was astounding and the chatter at the end was a show stopper. WOW, what a set. The NEARfest reviews were a bit tepid concerning echolyn, so I was not sure what to expect. They were so tight. There was a lot of emotion pouring out too! Ray bordered on cookie monster vocals at times, he was so pumped... "That was the death metal version of Mei" said Brett Kull afterwards. Ha! Fred is an echolyn fan now, as well.

I am concerned that not only will every band has to play a cover, next year they will have to let Papa J play with them. You ROCK, Jim.

PS: Don't forget Gabble Ratchet. There keyboard player had kidney stones (I've been there, ain't fun.) and an old member stepped in and ripped. They were fun to watch and hear. A great beginning to the festival.

The peeps were cool. Everyone seemed to be having fun. Jim's staff were very efficient, helpful and warm. Great job all along.

My report on CalProg '08, otherwise known as A Sea Of Pudgy White Guys In Dream Theater T-Shirts '08, shall be presented in the order the bands appeared.

Presto Ballet

Lead vocalist Scott Albright commented how strange it was to be doing a gig at 11 in the morning (after acknowledging his mistake in addressing the crowd with a "good evening"). It was admittedly a bit odd for the audience as well to be hit with late 70s-era power prog before lunchtime, but it certainly set the tone for the day.

For a band that prides themselves on using vintage analog recording techniques, it must have killed band founder Kurdt Vanderhoof to perform with sequenced keyboards running off a laptop, but he explained that their keyboardist quit a few months back and they did not want to cancel their CalProg appearance for a second time. The band did an admirable job of plugging ahead, and Vanderhoof had a genial sense of humor about their situation.

They ardently recreated several tracks from their two albums, "Peace Among the Ruins" and "The Lost Art of Time Travel". Albright unquestionably has an admirable set of pipes on him, but he needs a few lessons on stage charisma. When he wasn't belting out those impressive vocals, he would stand by the drum kit with his back to the audience or leave the stage altogether. Vanderhoof was more interested in connecting with us, smiling and goofing around a bit as he played.

Cover song: None. As Vanderhoof joked, they played all the songs their keyboard player knew.

Progability (out of 10): 7. Though they were game about playing with the sequenced keyboards, the rules are very clear that I must deduct a progability point. (Hey, I didn't write the rules, I just made them up and pretend it's someone else's fault.) Technically proficient and a welcome warm-up to what would follow.

IZZ

I've read a lot about this band, as they are fixtures on the prog circuit. Papa Jim introduced them as "the nicest band in prog", and they certainly seemed like they were fans as much as they were performers.

They had the full lineup going: singer/keyboardist, guitar, bass, 2 drummers, and 2 female vocalists. They opened with "Late Night Salvation", then followed with a couple shorter songs and a funny story from their bassist about getting stuck in the elevator at the Whittier Radisson. He then expertly segued that tale into their epic, "Deafening Silence", which ended with the first of their four (!) standing ovations.

I found that IZZ mostly lived up to their reputation. They were energetic, tight, and were clearly having fun. Their lead guitarist seemed considerably older than the rest of the band, and I was distracted by his kilt. Their vigor was infectious, and they did a terrific job playing to the audience's obvious enthusiasm.

My only qualm with live IZZ is the same qualm I have with studio IZZ: their lead vocals just aren't very strong. The Brothers Galgano are ridiculously good at their instruments, but I find their singing voices somewhat thin and weak. I actually think they should have their robust female backup vocalists take over their singing full time.

Covers: "Trilogy/Tarkus" by Emerson, Lake and Palmer. Tom Galgano explained that he discovered ELP in high school and taught himself how to play "Trilogy", a song probably a handful of people on Earth can play with any proficiency, so the fact he learned it as a teenager makes the feat doubly impressive. Their rendition prompted a well-deserved standing O, as did their second cover, Marillion's "He Knows You Know". Bassist John Galgano did a sly Fish impression for this song, I think the more aggressive vocal style actually suits him. Also: PapaJim on bass, laying down some English neo-prog rhythm. Oh yeah.

Progability (out of 10): 8.5. I probably would have given IZZ a very enjoyable, solid 8, but covering a Marillion song squeezes an extra half-point from me.

Sylvan

Marco Glühmann, Sylvan's lead singer, is far too good-looking to be the front man in a prog band. I am used to prog guys who look like Roine Stolt or Ian Anderson or Roger Waters or Fish. All great musicians, but none of them would be mistaken for European fashion models.

Sylvan skirts the edges of prog, anyway. Their music is certainly complex and dark, but they eschew much of the lengthy noodling that's often associated with the genre. These guys ain't the Flower Kings, not by a long shot.

Often, prog is accused of being heartless wankery, but you could never level that charge at Sylvan. Their music is deeply emotional, and Glühmann's vocal delivery is polished and very sharp. His German accent is occasionally difficult to understand, even on their albums, but he emotes with great conviction and I found myself connecting with his meaning, even if I didn't quite get the words.

The subject matter for the music strays into some bleak and even painful depths, so I was surprised by how light and loose the band was on stage. They interacted with each other and the audience freely. It's obvious they take their music very seriously, but it was a pleasant shock to see their stage persona was nowhere near as pretentious as I thought they might be.

They started off with a couple from their new album, Presets, but the highlight of their set for me was a 50-minute stretch of songs from Posthumous Silence. It culminated with an intense rendition of "A Kind of Eden", a song that kills me every time I hear it on the album, and live it was no different.

Sylvan did a terrific job, and they really should have a much larger following than a thin slice of prog fans. These guys should be pulling in the alterna-rock crowd, I'm sure there are fans of Muse and Radiohead who don't know what they're missing by not knowing Sylvan exists.

Cover: David Bowie's "Life on Mars". Okay, not really a prog song, but Sylvan isn't really a prog band. And I think there's a great deal of crossover with Bowie fans (I count myself as one), and they did pick the Bowie album where Rick Wakeman played piano. So there was a prog pedigree, but I won't lie, I would have much rather seen these guys tackle some Pink Floyd, I bet they would nail it.

Progability (out of 10): 9. I would go to see Sylvan as a standalone act.

echolyn

Honestly? The reason I came to CalProg was to see echolyn.

I've loved this band for fourteen years, since I discovered them from a free three-song sampler I happened to pick up at the legendary ProgFest 94 (the one where Kevin Gilbert and NDV played "The Lamb…"). In the early 90s (before Spock's Beard existed) this was the band that was supposed to bring prog back to the mainstream, as their album "As the World" was picked up by a major label. Prog would once again achieve its 70s-level popularity, w00t! But Sony didn't know how to handle what they had, and the whole thing disintegrated, imploding the band in the process.

Echolyn put the pieces back together in 2000, and have released three amazing albums since their reformation (and a fourth on the way, they revealed). I knew they had a reputation as a kickass live band, but I never thought they would make it back to the west coast.

I got a chance to chat with Ray Weston before their show, and he sold me a t-shirt. I asked if we were going to hear a bit of "Mei", and he promised we would. I tried not to be a total fan boy, so I just told him I was greatly looking forward to their show and shook his hand.

Ray started their set by screaming "Go Phillies!" at the L.A. crowd, prompting some good-natured booing as they launched into a balls-out rendition of "Georgia Pine". Echolyn definitely emphasizes the "rock" in "prog rock", and their set was predominately fast and somewhat aggressive. They beautifully recreated the vocal harmonies for which they are famous, with Weston especially nailing their often dark lyrics (the "Pain introduced us, I wanted someone I could hurt" section from "The End Is Beautiful" being a startling example).

They played a lot of songs from their great "Cowboy Poems Free", though Ray revealed an ulterior motive in doing so, in that they will be releasing a remastered version soon. They also knocked off a terrific a chunk of "Mei", as promised, starting with "Tall proud, stand up loud…" and building to that amazing keyboard frenzy.

The encore included a lovely, mostly acoustic version of "Never The Same", a song that has a very personal meaning for me as I listened to it quite a bit when my grandmother died. I was getting physically tired at this point, and it was no fair for them to pull this one out when I was already weak, so I got just a tad choked up. Fortunately, they finished by cranking out a bit of a medley centered around "Brittany", then flung out one more "Go Phillies" before inviting the crowd back to the Radisson for beers.

Progability (out of 10): 10. Echolyn blew the fucking roof off the dump. I'm really glad I finally got to see them, while the world at large have no idea who they are, they have fully earned the exalted status they enjoy in this tiny sliver of socially awkward fanatics known as proggers.