CalProg 2008 Performer



(New York)
Greg DiMiceli - Drums Brian Coralian - Drums Paul Bremner - Guitar Anmarie Byrnes - Vocals John Galgano - Bass, guitar, vocals Laura Meade - Vocals Tom Galgano - keyboards, vocals
At CalProg we receive huge volumes of requests for bands that people would like to see at our festival, but we have gotten the largest number of requests (by far) for IZZ. They were the runaway hit of the very first one we did 5 years ago, so much so that we asked them back again in 2005. A very special bond was forged between the CalProg fans and this remarkable group. And still the requests continue. In this year that promises to be a musical event that will long be remembered, it seemed appropriate to bring back the band that has become like family. And YES, they're that good.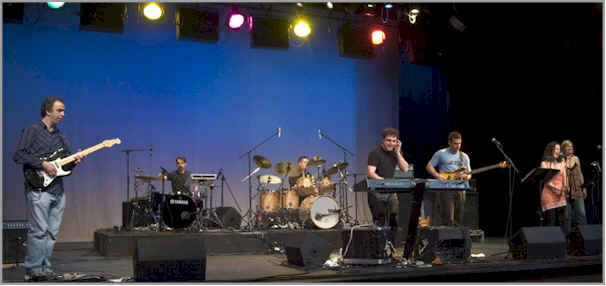 In the three years since their last appearance they have released a new studio album (My River Flows in 2005), played at both ROSfest and NearFest, and are working on another new release. They have received accolades from the progressive rock community for their accomplishments, and have won over the hearts and minds of most that have seen them perform. They possess a very special charisma that is hard to define. It's not just the lighthearted interplay between the Galgano brothers, or the monstrous talent of the soft spoken Scotsman Brems (Paul Bremner), or the uncanny synchronicity of the dual drummers Greg and Brian, or even the angelic voices of Anmarie and Laura, but its also the warmth and friendship that they share with the fans. And so it is with great pleasure that we welcome this New York band "home" to Southern California .
If you've never seen IZZ perform live then plan to come and see what it is that would cause us to invite a group back for an unprecedented THIRD appearance. If you HAVE seen them, then you know what we're talking about.