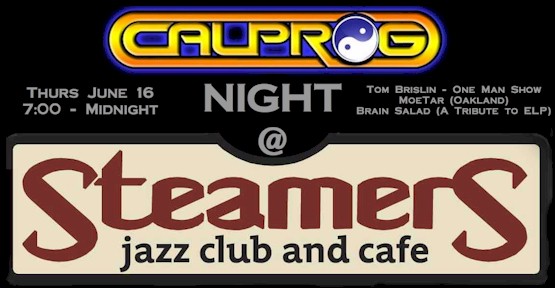 138 W. Commonwealth Ave./Fullerton, Ca. 92832/714-871-8800
Steamers Web Site
CalProg is pleased to welcome back the "CalProg Nights" series at Steamers Jazz Club in Fullerton. This intimate 130 seat venue plays host to some of the greatest names in jazz, but they are opening their doors for us to provide a showcase for some very interesting progressive acts. They have a tremendous menu and a bar to match, but this is an all ages venue so feel free to bring your younger prog fans along with you. You can buy advance tickets here at the CalProg site for the low price of $20 or you can get them at the door (if it's not sold out!). This is a general admission event and seats are given out on a first come first served basis. But the best seats are reserved for those who buy advance tickets and/or come early for dinner. We strongly advise making reservations directly with the club.
TOM BRISLIN
Long time friend of CalProg, Tom Brislin (Spiraling, Renaissance, Yes, Meatloaf...) returns as a one man show to sing songs at the grand piano (and other electronic devices) from his upcoming solo CD, Spiraling and even some well selected cover songs. Tom is always a pleasure to watch play, and he's also a great guy to talk to. He's got stories from his extraordinary career as the go-to keyboard player for many very popular bands, so don't be afraid to ask him any questions you might have.
MoeTar
This Bay Area based band caught my ear last year with one of the most impressive debut CDs I've heard in a long time. In fact that album (entitled "These Small Seeds") was number 4 on my top 10 list from 2010. I was so impressed by their jazz-infused prog music that I went up to Berkeley to see them perform hoping they could pull off live what was so impressive in the studio. My hopes and expectations were exceeded as they turned in one of the most exciting performances I've seen in a long time. Moorea, the lead singer has unbelievable control and in her delivery of this very demanding music yet very powerful depth and soul when the music calls for it. Tarik was one of the most energetic bass players I have ever seen and seemed to drive the band to a fevered pitch. And you might recognize the versatile Matt Lebofsky playing keyboards as the bass player from miRthkon. These guys were a shoe-in for the CalProg 2011 festival but when we decided to take the year off we were still determined to get them on the stage of a CalProg event. We are delighted that CalProg Night will provide that opportunity. If you aren't a fan already, you will leave as one for sure.
BRAIN SALAD
We thought a great way to end the night would be with a full set of classic prog music. Complete with a full blown modular moog synthesizer, this local band recently performed at the Coach House and boasts a very talented set of musicians performing the works of Emerson, Lake and Palmer. So sit back and enjoy some of the greatest keyboard oriented music of all time. Come and see the show!
So come out and spend a relaxed night with fellow prog fans and support these artists and CalProg in the process.
PJ