CalProg Commemorative Calendar for 2008
5 Years of Prog in SoCal
$20.00 + $2.50 Shipping ($5.00 outside US) staff pic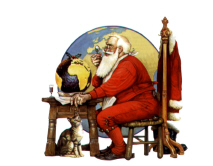 For a few years now I have wanted to make a calendar to commemorate the very special events that we have been fortunate enough to host. This year I finally got around to doing it. When I saw them printed up I thought what a special gift it would make for my prog friends. But being the ever vigilant steward of the CalProg enterprise, I thought it might present an opportunity to raise funds to help cover our ongoing costs, while at the same time giving prog fans a chance to get something truly unique as well as just plain cool.
It's a five year retrospective of CalProg featuring 12 full-color collage-style 11x8" pages in a spiral-bound wall calendar. There's a page devoted to each of our major events (CalProg 2004-2007, Testimony, The Musical Box, Amazing Journey) as well as some of our favorite bands. Here are a few samples to give you an idea of what you'll be getting.
Quantities are extremely limited. They'll make a great gift for the special "progger" in your life, even if that is YOU! It's the gift that keeps on giving all year long. We will ship these immediately, hopefully even in time for Christmas.


Outside US